Books (in French) :
– L'Art Génératif.
Jouer à Dieu … un droit ? un devoir ?
(avec Pierre Berger). L'Harmattan. 2012.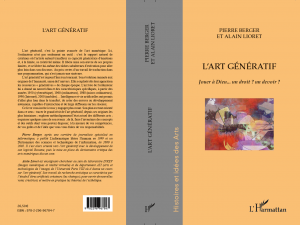 Collection Histoire et Idées des Arts.
L'art génératif, c'est la pointe avancée de l'art numérique. Ici, l'ordinateur n'est pas seulement un outil : c'est le support naturel de créations où l'artiste entend transférer sa capacité génératrice d'émotions et, à la limite, sa créativité même. Il libère ainsi son œuvre de ses propres limites, et se libère lui-même des tâches subalternes d'exécution pour aller plus loin dans son discours. L'art génératif est aujourd'hui à un tournant. Ce livre vous invite à vous y engager plus avant.
ISBN : 978-2-296-96784-7 • septembre 2012 • 238 pages
– Emergence de Nouvelles Esthétiques du Mouvement.
L'Harmattan. 2004.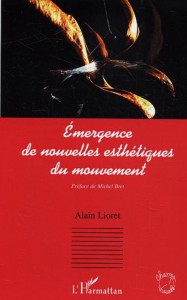 Collection Champs Visuels
Animer des personnages, des créatures, des créations a été depuis l'Antiquité une quête de l'artiste. Au fil du temps et au gré de l'arrivée de nouveaux moyens d'expressions, des artistes et des chercheurs ont mis en action diverses formes de créations liées plus ou moins directement au mouvement. Les peintres, les sculpteurs, les photographes, puis plus tard les cybernéticiens et bien d'autres se sont intéressés au mouvement sous diverses formes. L'arrivée de l'ordinateur dans le monde de la création a ouvert de nouvelles voies de recherches pour la création de mouvements.
ISBN : 2-7475-6316-2 • juillet 2004 • 336 pages
International Papers :
–       Cinema Beings. Computer Art Congress. Paris, November 2012.
Cinema Beings are a complex ecosystem of artificial beings whose goal is to create artificial films. This system is on one hand primitive and chaotic, and on the other hand evolved and self-organized. Not only does it produce films independently, it also implements theories of aesthetics and the rules of cinema…
Cinema Beings are based on a huge Genetic Algorithm, and use some Cellular Automatons for producing rules of Live, and rules of Art pieces.
–       Artificial Life Creation for Cinema. Science e-book. November 2012.
–       Who is This Cloud ? Laval Virtual. March 2012.
(with Lola B. Deswarte and Barbara Tannery)
WHO IS THIS CLOUD? is a generative artwork in progress. It is a piece of art dedicated to the memory of a loved one and the idea of existence and transformation. The computer "Beings" will be animated according to their inner program, to weather sensors as well with the viewer behavior 'sensors.
Download :  Who is this Cloud ?
 –       Cinema Beings. Short Paper. Proceedings SIGGRAPH Asia. Hong Kong. December 2011.
 –       Galatema : A Framework for Generative Cinema. Generative Art 2010. Milano. December 2010
–       GalaBoids. Genetic Algorithm Applied to an Ecosystem of Boids. GECCO. USA, June 2010.
–       Through The Looking-Glass. Our World as seen by Artificial Beings. Laval Virtual. April 2010
–       An Artificial Intelligence Nodes module inside Blender for expert modeling, texturing, animating and rendering. Blender Conference Proceedings. Amsterdam, November 2008.
–       Artificial Beings That Look Back At Us. (Ylem Journal – March-April 2006, Volume 26, Number 4)
Download : Artificial Beings That Look Back At Us
Link : http://www.ylem.org/Journal/2006Iss04vol26.pdf
–       Past Images of the future. In Generative Art Conference. Milano.  December 2005.
–       Beings Paintings. In Proceedings of SIGGRAPH. Los Angeles. USA. August 2005
–       Morphogenèse de Systèmes L-Cellulaires. Laval Virtual. France. Avril 2005. (in french)
–       Emergence Of L-Cellular Morphogenesis. In Generative Art Conference. Milano.  December 2004